Welcome on my Portfolio !
Are you ready to enter in my universe?
Presentation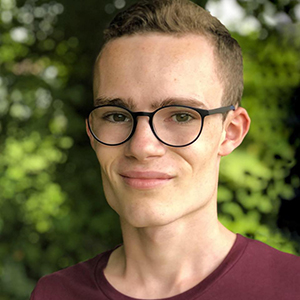 My name is Hugo Bonnet, I'm 19, and I live in Angoulême since forever. I am currently a second-year student at University of Poitiers to the University Diploma of technology specialty Multimedia and Internet Technologies (MIT). Having a strong interest in multimedia, this training allowed me to develop many skills in the areas of web development, audiovisual and communication.

To find out more, let's start by taking a look at my career!
My Career
University Diploma of technology specialty Multimedia and Internet Technologies (MIT)

September 2018 - Currently

University of Poitiers, Angoulême University Institute

Web Development course in in 4th semester

Supervised Troject - Écouter Voir Charente

September 2019 - April 2020

University of Poitiers, Angoulême University Institute

Assistant to the Möbius transport network

Été 2019

STGA - Société de Transport de GrandAngoulême, Angoulême

Graphic communication internship

February 25, 2018 - March 8, 2019

SocioCultural Center Effervescentre, Roullet-St-Estèphe

Scientific Baccalaureate

June 2018

Angoulême High School of Image and Sound (LISA)

My Skills

Audiovisual

Since a very long time, I had a strong interestat the audiovisual. At the age of 15, I maked false reports with my camcorder, then I discovered the joys of video editing . MIT Diploma allowed me to strengthen my skills but also to learn and practice new things such as writing screenplay , writing and filming a short film or even promotional films for an optical and auditing brand.

Web Developpement

Arrived in MMI, web development was brand new for me. Thanks to the training, I was able to acquire lots of new skills such as a good command of HMTL, CSS languages , the practice of PHP, JS languages , and finally creation of WordPress website, as well as the creation of themes for this CMS. At the same time, I used these skills in personal projects .

Communication

The DUT MMI allowed me to deepen my mastery of graphic design software such as Photoshop , which I have been using for 4 years, and Illustrator . So I use the power of these tools to produce graphic communication , but I also learned thanks to DUT MMI to write a communication report and thus put in places a communication strategy .

My Creations

Audiovisual

Web Developpement

Communication